Mediterranean almonds
Mediterranean Diet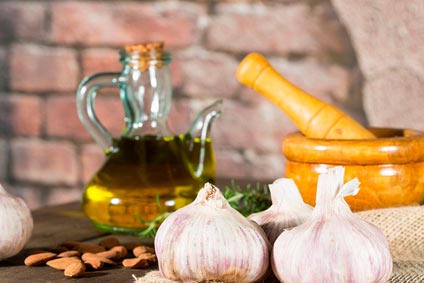 The Mediterranean diet is a lifestyle. It is not only a food habit which combines ingredients from the local farming, but also the recipes and traditional ways of cooking depending on the region, the shared meals, celebrations and traditions. All of these factors together with daily moderate exercise favoured by good weather conditions complete this lifestyle, which modern science invites us to adopt in favour of our health, making this diet an excellent model of healthy life.


Enjoying good health is just a matter of genes. Nevertheless, a varied diet can help us to maintain this health as well as to improve it. Nowadays, the Mediterranean diet has been imposed as dietary pattern due to its beneficial effects on our health in general and more precisely thanks to its role in the prevention of cardiovascular diseases, cancers and diabetes.
Choose seasonable food in its natural state.

Practise some physical activity in a regular basis to make our heart work.

Consume a lot of food of vegetal origin, fruit, vegetables, bread, pasta, rice, cereals, legumes, and potatoes.

Consume a moderate amount of cheese and yoghurt on a daily basis.

Use olive oil as the main fat of our diet.

Consume weekly a moderate amount of fish, preferably blue fish, poultry meat and eggs.

Consume a moderate amount of nuts, honey and olives.

Eat red meat only once in a while.

Drink wine moderately, normally during the meal.

Use herbs as a healthy alternative to salt.
Nuts as a source of health
Nuts have been incorporated into the diet of any person who makes physical or intellectual effort which requires a high performance and an intensive activity.
Nuts such as almonds, walnuts, cashews, hazelnuts, peanuts, pecans, pine nuts, and pistachios can help you to reduce the risk of suffering chronic diseases such as heart diseases, diabetes and some types of cancer. Moreover, apart from their great flavour, they do not have cholesterol and are full of nutrients like proteins, fibre, and photochemicals. They are also a great source of vitamins such as folic acid, niacin and vitamins E and B6 and minerals such as magnesium, copper, zinc, selenium, phosphorus and potassium.
Most fats in nuts are unsaturated or "good" fats (for instance, monounsaturated or polyunsaturated). The key to introduce these nuts into our diet without adding extra fats or calories is controlling the portions. Consuming just a handful or an ounce of dried nuts per day nutritional benefits are provided.
Mediterranean Almonds
The Mediterranean culture has traditionally used almonds as an extraordinary complement for its diet, taking advantage not only of its excellent nutritional qualities and organoleptic but also its conservation possibilities.
Spain is an important producer of this nut and in its culture the almond has played an important role with different uses, which has been spread around the rest of the world. Almonds are consumed in their natural state, as an appetizer, as complement of the most delicious gastronomic recipes and so on. Nevertheless, its main role is as a dessert ingredient. It is used in all types of desserts, nougat, marzipan, ice-creams, etc.., making it irreplaceable, since it has not been found any alternative product which offers such a delicate and exquisite flavour.
We can number other uses such as almond milk which provides proteins. It is of great value when animal milk intolerance is observed. Also, since ancient times, almond oil has been used for cosmetic and dermatological purposes, using its anti-inflammatory and nutritional qualities.
This exquisite product arrives to the consumer due to the intervention of different professionals: producers, crackers, industrialists, exporters, agents…
Nutritional information: each 100 g of raw almonds provides:
20 gr. of proteins
52 gr. of fats
20 gr. of carbohydrates
12 gr. of fibre
578 calories
Vitamins E (26 mg), A (10 IU) and folic acid.
Minerals: Calcium (248 mg) and magnesium (275 mg)
Cholesterol: 0